Summary
The recreational and medical marijuana "revolution" is well underway.
We are currently witnessing the emergence of a major new industry, with significant opportunities for investors.
I will provide an overview of the cannabis industry and explain why investors should keep an eye on the space.
29 states and the District of Columbia have now legalized cannabis for medical and/or recreational purposes and public acceptance of cannabis continues to increase at a rapid pace. Cannabis has also shown encouraging signs as a treatment for various medical conditions and ailments, which should make the space of interest to investors in biotech and healthcare.
While cannabis remains federally illegal in the United States and publicly-traded cannabis companies are located overseas, I believe that investors should pay close attention to this emerging industry.
In this article, I'll provide an overview of the cannabis industry and describe what investors should be looking out for. I'll also begin to write articles that evaluate specific companies in the space.
I would also like to preface this article by encouraging readers to avoid conflating their personal opinion of cannabis with their evaluation of the cannabis industry as an investment opportunity. I was raised in Southern California and now attend college in upstate New York, and have witnessed firsthand how attitudes towards cannabis differ significantly based on locale.
Overview Of The Cannabis Industry
The cannabis industry continues to expand at a rapid pace. Americans spent $6.7 billion on recreational and medical cannabis in 2016, a surprisingly large number given that marijuana is illegal in wide swaths of the United States. Sales have continued to grow steadily, as per the below graph: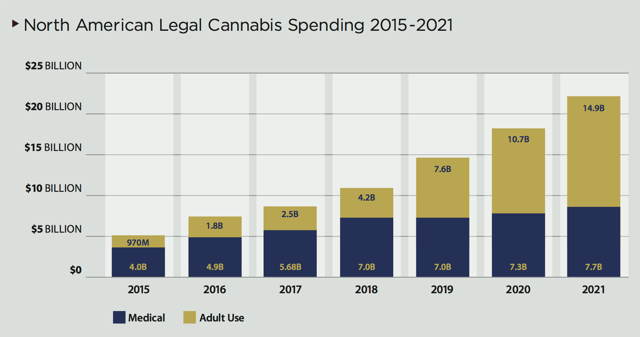 (Source: The Arcview Group)
The United States is sharply divided when it comes to the legal status of cannabis. The west coast is the most liberal when it comes to cannabis, whereas areas of the Midwest appear less so. The below chart provides a handy reference of marijuana's legal status in various states: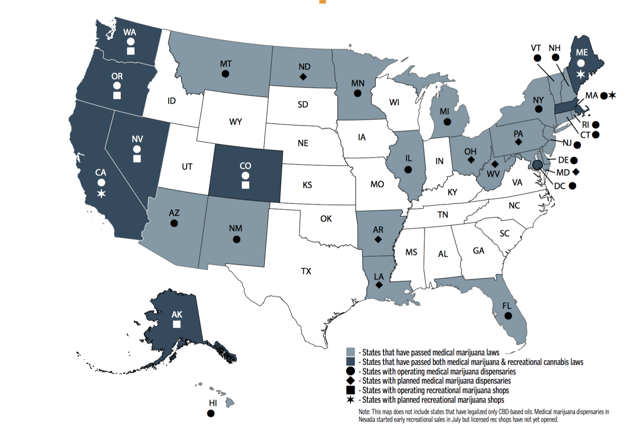 (Source: Marijuana Business Daily)
There are also partisan divides: 72 percent of Democrats believe cannabis should be legalized, whereas just 51 percent of Republicans believe the same. However, it is interesting to note that support for legalization has gradually increased over the past several decades, and 64 percent of Americans as a whole now support legalization: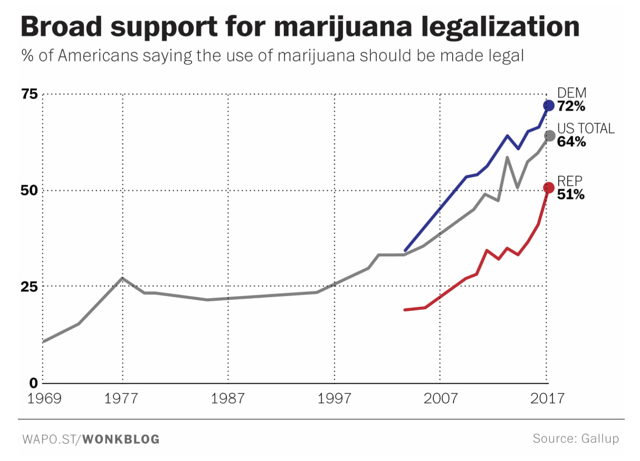 Cannabis is expected to be legalized nationally in Canada by summer of 2018, with widespread support from Canadian citizens and Prime Minister Justin Trudeau This means that the future of cannabis in the US is likely contingent on the effects of legalization in Canada, as Canada will likely be used as a barometer by our politicians to assess the effects of recreational marijuana.
Despite the sharp divides in support for cannabis legalization, a few things are clear: public support for marijuana legalization continues to increase, the industry is already a multibillion-dollar juggernaut that looks primed for continued expansion, and there are clear potential medical benefits of cannabis.
Medical Benefits Of Cannabis
Cannabis has demonstrated usefulness in the treatment of epileptic seizures, glaucoma, and multiple sclerosis; it is also used as an appetite stimulant for cancer patients, as a source of pain relief, and as a treatment for nausea and other conditions.
The World Health Organization recently released a report declaring that "CBD exhibits no effects indicative of any abuse or dependence potential". CBD is the main ingredient in medical marijuana.
This article by CNN's chief medical correspondent Sanjay Gupta outlines the benefits of medical marijuana and describes several clinical studies that have shown promising results. Former Surgeon General Vivek Murthy has also noted that "we have some preliminary data that for certain medical conditions and symptoms, marijuana can be helpful".
Cannabis is also a potential solution to the opiod epidemic that has gripped our country. According to the National Institute on Drug Abuse, over 90 Americans die every day from opioid abuse. The Centers for Disease Control and Prevention estimates that the total "economic burden" of prescription opioid misuse alone in the United States is $78.5 billion a year, including the costs of healthcare, lost productivity, addiction treatment, and criminal justice involvement.
Cannabis-based medicine has been proposed as an alternative to opioids, and studies show that marijuana legalization has been associated with a decline in deaths from opioid overdoses in Colorado. Although a controversial proposition, proponents argue that cannabis is preferable to opioids given that it is much less harmful and addictive.
GW Pharmaceuticals
Several companies are already working on developing cannabinoid-based drugs that will be used to treat various ailments. For example, UK-based GW Pharmaceuticals (NASDAQ: GWPH) is currently in the process of manufacturing a drug called Epidolex that is used in the treatment of several forms of epilepsy that occurs early in childhood.
The company has completed Phase 3 clinical research for the drug and has submitted an NDA (New Drug Application) to the FDA, with results expected sometime in 2018. They also have several commercially-available and development-stage products, including Sativex, a drug for multiple sclerosis spasticity that has earned regulatory approval in 30 countries.
GWPH's product pipeline shows how cannabinoid-based products have significant potential as a treatment for a wide range of diseases: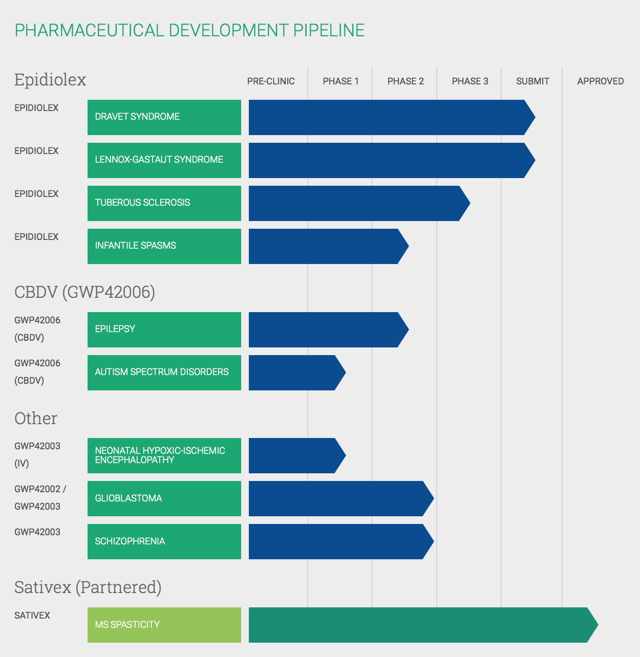 (Source: GWPharm.com)
GW Pharmaceuticals is still an early-stage company with significant risk, given that it has a market capitalization of $3.8 billion with little revenue and recently announced a $225M round of funding.
However, the company's valuation and progress demonstrate that cannabis has significant potential for a variety of medical conditions, which may have implications for the pharma, biotech, and healthcare industries.
Canopy Growth Corporation
Canopy Growth Corp., mentioned earlier, is a Canadian medical marijuana company that holds a diverse assortment of cannabis brands and products. It has a market capitalization of $3.5 billion and has appreciated substantially as nationwide legalization in Canada grows closer.

(Source: YCharts)
The company reported sales of $31.4 million for the fiscal year ended March 31, 2017 and a net loss of $13.4 million for the same time period. Contributors have expressed concern about Canopy's expensive valuation, noting that the company's price-sales multiple is extremely high and the company has yet to turn a profit.
Canopy Growth is clearly a high risk-play but investors are clearly interested in the company as it looks to become a major player in the Canada's emerging cannabis economy. Its valuation arguably reflects the company's first-mover advantage in what is likely to become one of the largest recreational marijuana markets in the world. Constellation Brands, recognizing its potential, purchased a 9.9% stake in the company for roughly $191 million. 
This news made headlines as Constellation Brands is a large, reputable company with a market cap of $43 billion, demonstrating that interest in cannabis is becoming mainstream. The company is well-known as the producer of Corona beer and Svedka vodka.
Canopy Growth Corporation and GW Pharmaceuticals are two of the largest players in the cannabis space. Investors should keep an eye on these two companies as they represent two of the biggest (by market capitalization) and most mature players in the industry. I will have more to say on these companies in future articles.
Political Climate
The future of cannabis is dependent on whether or not its status as a federally illegal Schedule I substance changes in the future. The Obama administration took a hands-off approach to marijuana: the Cole Memo, issued by then Attorney General James Cole, provided guidelines for states to follow to ensure that the federal government would not prosecute or interfere with cannabis-related activities.
The Trump administration has remained rather ambivalent when it comes to cannabis, although Attorney General Jeff Sessions has been a staunch opponent of legalization. Trump's election cast a bit of a dark cloud over the nascent cannabis industry; however, growing public support for marijuana legalization is a positive sign that the federal government will avoid interfering in the industry.
The future of the industry in the short-term may be difficult to assess, but several trends indicate that the cannabis industry will flourish in the long-term. Public and municipal support for legalization continues to increase steadily, a growing body of scientific research shows the positive medical effects of cannabis; and there is little evidence to suggest that marijuana is more harmful to one's health than tobacco or alcohol.
That isn't to say that cannabis doesn't have any negative effects, and this article describes some of the negative effects of consumption. However, tobacco is a perfect example of how a substance with some negative health effects can be widely legalized and commercialized.
Effects Of Legalization
The Drug Policy Alliance recently released a report in which it examined the effects of marijuana legalization in Colorado, Washington, Oregon, and other states. Titled "So Far, So Good", the report's main findings are as follows:
Legalization has not led to more dangerous road conditions, as traffic fatality rates have remained stable in the states studied.
Tax revenues in Colorado, Washington, and Oregon have all exceeded initial revenue estimates, totaling $552 million.
Marijuana-related arrests have plummeted in all states in which legalization has been enacted.
There has not been a significant increase in teen marijuana use.
The report was largely positive and a boon for cannabis advocates who have argued that legalization will not have adverse effects for states or local economies.
However, investors must closely monitor the effects of cannabis legalization in order to gauge the future of the industry and the possibility of federal legalization in coming years.
Risks
There are several notable risks and pitfalls of investing in the cannabis industry, which are as follows:
As cannabis is still a federally illegal substance, opportunities to invest in legitimate, publicly-traded cannabis companies remain sparse.
The industry is subject to enforcement and crackdowns by federal authorities since cannabis is still a controlled, Schedule I drug.
Research on cannabis's effects on memory and health is still ongoing and may result in unfavorable findings, thus posing an existential risk to the emerging cannabis industry.
Public support for marijuana legalization may eventually subside, which also threatens the viability of the industry and related companies.
The cannabis industry as an investment opportunity remains fraught with risk and uncertainty. The substance is still clouded by stigma and some remain staunchly opposed to legalization.
Conclusion
The cannabis industry is still in its infancy but continues to grow at a rapid pace. There are significant risks to investing in an industry whose main product is federally illegal, and as such I would advise investors to remain cautious and pay careful attention to the results of legalization in countries like Canada and states like California, Colorado, and Washington.
Retrieved from:https://seekingalpha.com/article/4134075-overview-cannabis-industry