Tears of joy at opening of Bucks County medical marijuana dispensary
Updated: FEBRUARY 17, 2018 — 1:50 PM EST
Picture credit: William Thomas Cain/cainimages.com
From left, Adam Prowell and Josh Reiss help patient Robert Consulmagno at TerraVida Holistic Center, which is one of the first medical marijuana dispensaries to open in Pennsylvania. (WILLIAM THOMAS CAIN / For The Inquirer)
Robert Consulmagno walked into TerraVida Holistic Center in Sellersville around 9:30 a.m. Saturday and left half an hour later feeling hopeful for the first time in a while.
"Help is on the way," Consulmagno said, lifting his purchase – a vape pen and cartridge of 500 mg of  "Keystone Kush" – to applause from dispensary staff. "I've been waiting a long time for this."
Consulmagno, a disabled Marine veteran who suffers from bipolar disorder and post-traumatic stress disorder, was the first person to buy medical marijuana from TerraVida, one of two dispensaries to open in the Philadelphia area Saturday. The other, Keystone Shops, is in Devon. Pennsylvania's first dispensary opened Thursday in Butler, followed by others in Pittsburgh, Bethlehem, and Enola on Friday.
Picture credit: William Thomas Cain/

cainimages.com

 Disabled vet Robert "Cosmo" Consulmagno is the first patient at TerraVida med marijuana dispensary in Sellersville, which opened this AM.
Outside TerraVida on Saturday morning, about a dozen people waited in line. They drove in from Plymouth Meeting, Red Hill, Doylestown, Harleysville, and Northeast Philadelphia. They shared with one another their conditions: multiple sclerosis, rheumatoid arthritis, lupus, metastatic cancer. And talked about all the things they miss out on because of pain: kids' sports games, walking the dog, going to the beach, taking a spouse out for Valentine's Day. A cancer patient described how surgery left him with chronic pain and radiation burned off his taste buds. He dropped 25 pounds and has no appetite.
Bob Traynor, 71, shook from the strain of holding himself up on his cane. For the retired Vietnam War veteran who lives in Red Hill and has had two spinal fusions, walking and standing is intolerable. At one point, he was taking 10 opioid pills a day. He can't lift more than 20 pounds and the inability to find relief has become a strain on his family. His doctor recommended he try cannabis. "This is like a blessing," he said through tears. "I just hope it works for me."
Picture credit: William Thomas Cain/cainimages.com
The mood was largely celebratory. Each time the next person was invited inside by the security guard (clients go in one at a time), the small waiting group cheered. It's been two years since the state legalized medical marijuana.
"I never thought I'd see this day," said Thom Shannon, 42, who has migraines and insomnia. "It's a ray of hope."
TerraVida, a beige, nondescript building on Main Street in Sellersville, shares a parking lot with the local fire department. It's across from the American Legion, tucked right in the center of town. The dispensary has a spa-like feel, with a waterfall, wood-and-stone decor, and a waiting area where patients can help themselves to cucumber water, green tea, and cookies. On opening day, the staff set up a photo area with balloons and a TerraVida backdrop, encouraging patients to share their stories on social media to celebrate the opening and destigmatize cannabis use.
"We wanted to take away the stigma of what a medical marijuana dispensary should look like," said owner Chris Visco. "This isn't like a head shop. This is a medical facility and there are a lot of people who've never used cannabis before who are coming here. They're a little uneasy and we want everyone to relax."
Visco, 46, who lives in Springfield, Montgomery County, started her career working in retail. She was a buyer for David's Bridal and Boscov's before getting into politics and starting up a social media and political strategy business. She was part of the campaign to legalize medical marijuana in Pennsylvania and has since learned much about the industry she has joined.
"I wanted to be a part of helping people get off opioids and helping cancer patients and small children with epilepsy," Visco said. "It's really rewarding talking to all these patients and knowing how long they've waited."
By late afternoon, Visco said TerraVida had served about 100 clients, and expected 40 to 50 more before the 6 p.m. closing.
Visco has secured two other locations, in Abington and Malvern. Hers are three of 27 permits granted for dispensaries statewide. Openings have been slightly delayed because it's taken growers a while to get up and running, she said. Only one is at the shipping stage.
When a patient comes in – appointments and walk-ins are welcome – they must present their active medical marijuana card to a receptionist and wait in a locked glass vestibule to be buzzed inside. Once inside, they present their doctor's recommendation to a pharmacist who privately consults with them to learn about their life and what strain is best for their condition.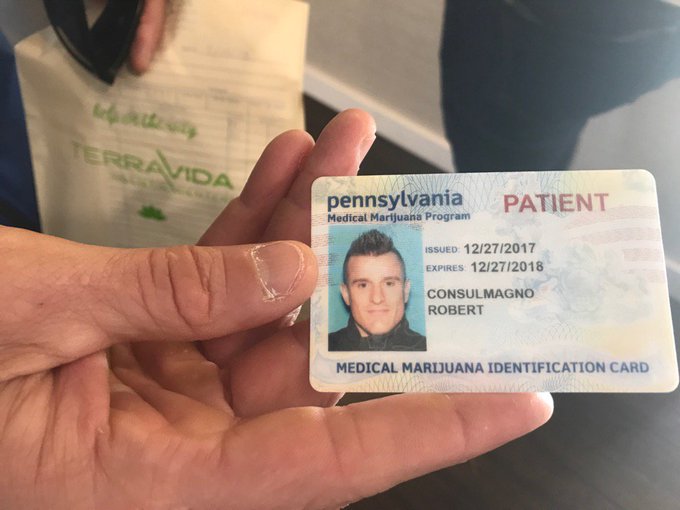 Patients must present their active med mar card before getting buzzed in.
After the pharmacist consultation, the patient enters the dispensary, where they get help picking from disposable pens, oils, concentrates, waxes, and lotions displayed in glass cases. The dispensary doesn't sell cannabis bud or leaf. State law does not allow sale of the plant, including joints or food with marijuana in it. The 30-day supplies range in cost from $25 to $85 depending on the type.
Consulmagno, a high-level jiu-jitsu competitor who follows an intense workout regimen, considered an oil that could be applied topically or with a syringe under his tongue, or dropped onto candy or food.
He wanted something to help him sleep and unwind after working out, so consultant Josh Reiss suggested the "Keystone Kush," 67 percent THC, considered the psychoactive molecule in marijuana. The 500-mg cartridge cost him $60 and the vape pen (which can be charged via a USB cable), $15.
Consulmagno, 165 pounds of muscle, a shiner still under his eye from a recent competition, has been recognized for his work destigmatizing mental health and helping veterans. He's known as Super Crazy Cozmo and his mantra is "fighting for mental health." He would most likely be the most intimidating-looking guy buying cannabis that day, but he worried about being hassled for using the vape. "So can I ask you, if it's in my pocket, am I going to be nervous pulling it out? Can I do it outside, like cigarettes? I don't want people bothering me."
"I recommend you consume in private, save the receipt to show you purchased it here," Reiss said.
"But it's your right to possess it."
---
Retrieved from: http://www.philly.com/philly/news/marijuana-medical-cannabis-dispensary-bucks-county-20180217.html?mobi=true